I know I might be late at this, but I couldn't find the right one... The right clear transparent PVC bag. It's been around for this year's Spring / Summer and I've been on the hunt for it. I want shoes too, but I heard that it can be very painful to wear. So I thought I start with bag, but ... wow... there're so many out there and I just couldn't find the right one...
Look at all the choices!!!
Source : POLYVORE
... but now, finally, I found the clear transparent (PVC) bag that I want. That is Marc by Marc Jacobs!!!
I know it comes in many colors, but... I wanted... WHITE
And as always... I don't have time to go out shopping to just hunt for this particular bag... So I turned to online shopping... Been browsing around for a while... like 2 months. Honestly wasn't easy. The thing is, if I order from website outside Thailand, chances are I might end up paying unreasonable tax or my bag can be damaged by the Thailand post office people (I'm not kidding... it happened before).
Then I finally I found it!!! In
Reebonz Thailand's website
.
If you are in other parts of Asia, you've probably heard of the website. Since REEBONZ was founded in Singapore in March 2009, it has grown very quickly employing over 150 people with offices in Malaysia, Indonesia, Hong Kong, Taiwan, Thailand, Australia, Korea and Shanghai to be one of Asia's largest shopping community.
Reebonz is an online shop that delivers ultimate luxury shopping , exclusive fashion, design inspirations and lifestyle experience with great deals for members. Their product range from high-end luxury designer items, from brands such as Chanel, Prada, Balenciaga, Gucci, Burberry, Coach, and more. Categories from handbag, shoes, apparel, jewelry, watches, to sunglasses. Also with numerous flash sale events that will be rolled out daily and last from 1-7 days. More than 1,000 items are available each day.
In September 2011, they've also launched its flagship retail lounge, call Reebonz SPACE at Italthai Tower in Thailand. Here, both members and the public can enjoy personalized and comfortable shopping moments.
I am not going to go in detail on how to browse around the web, you'll have to go experience it yourself. But if you are interested I can do a post that show you how I ordered my bag.
So yeah! I got contacted from Reebonz and got offered a coupon to go shop on the website. At first... honestly... I was like...errrr... I don't think I'm gonna find what I like here. And the bags the staff recommended me was nothing close to what I wanted. Until I've finally found a free time to actually, properly browse around the website (which trust me, I'm such a lazy girl, and don't usually spend that much time trying to understand new website), then... I found the bag... without hesitation... I ordered... LOL...
And the box arrived!!!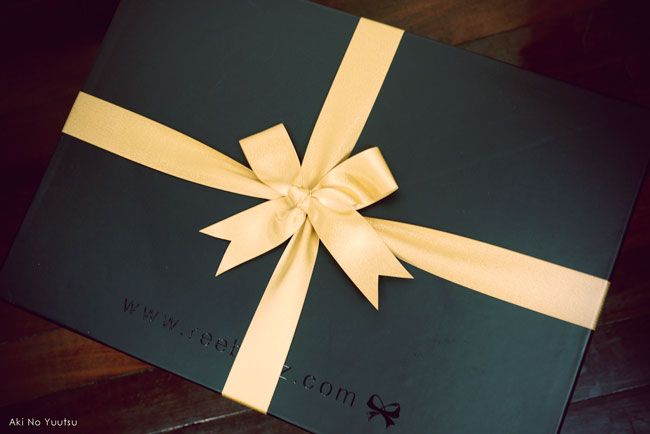 Wait for it...
TADAAAA!!!!
Oh yeah! I'm lovin' this bag!!! Will be posting an outfit with this bag soon!!!
Well... I guess you'll have to go play around with their website... they said they have the best price in town, cheaper than any authorized boutique or authorized re-seller. Free shipping on all orders! The price you see listed is the price you will pay at check out. Receive your order within 10 working days. Free returns within 14 days no questions asked for first time buyers.
For more information:
Please visit
Reebonz Thailand
Reebonz Thailand's Facebook
Reebonz Thailand's Twitter
Reebonz Thailand Instagram